Mac App Store, the one-stop marketplace for all applications and games for Mac OS X operating system platform, has officially open for business on Thursday, 6th January, 2011. The Mac App Store is available in more than 80 countries and contains both free and paid commercial apps and games from Apple and third-party developers for download.

To access Mac App Store, Mac OS X users have to upgrade to Mac OS X version 10.6.6 (or newer), which was released simultaneously with Mac App Store to add access to the store.
Here's how to access the Mac App Store, including steps to install Mac OS X 10.6.6 update:
For existing Mac OS X, click on the Apple icon in the upper left corner, and select Software Update.

Alternatively, download the Mac OS X Snow Leopard v10.6.6 Update Combo for manual installation: MacOSXUpdCombo10.6.6.dmg

Install the Mac OS X v10.6.6 update.
After installation, restart the computer. The Mac App Store should appear in the dock, and a new "App Store" menu item is added to the Apple drop-down menu.

To access Mac App Store, just click on the Mac App Store icon in the dock, or click on Apple logo on menu bar, and select App Store. Sign in with an Apple ID (or same user name and password for iTunes account).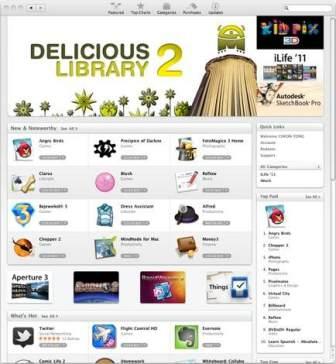 With the launch of Mac App Store, Mac OS X Downloads website which includes access to Dashboard widget feature has been discontinued. Nor Mac App Store allows transfer of software licenses purchased outside of the store to be imported into the store. The purchased apps on the Mac App Store are tagged with the Apple ID (iTunes account), allowing easy re-download of apps when moving to new Macintosh computer. Apps purchased are automatically download to Mac OS X dock. And just like iTunes App Store, all new updates will be shown on "Update" page.