If you are using Skybox/Hibox/Yumy/Openbox S9/S10 HD satellite decoder to receive satellite signals via card sharing, it is sometimes hard to filter off adult channels especially if you have small children at home. And worst thing is you may not aware that some satellites may have added sexual contents just like what had happened to JCSAT 128 C-band in Asia countries recently. Fortunately, there is a parental lock feature that can prevent anyone from accessing the channels. If you wonder how to activate such feature, this article will guide you through with simple steps.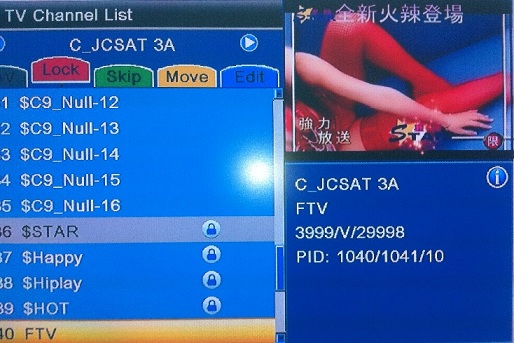 First, go to Menu -> System Setup -> Parental Lock. Key in the default password of '0000'. Over here, you can toggle to Menu and Channel Lock to On/Off, or even enter a new password as desired.
Then, go to Menu -> Edit Channel -> TV Channel List.
Press on Red button (Lock) to toggle Lock function and then browse to specific channel that you intend to lock.
Next, a password field will prompt up. Enter the pre-configured password (in step i.) and a 'Lock' sign will appear beside the channel. A new confirmation of 'Are you sure to save?' will appear and press 'Yes' will make the change effective.
Repeat step iii. to lock other channels that you think the content may not suitable for your family members.
Whenever you browse and try to access to those parental password protected channels, a password field will prompt out and unless a right password is being keyed in, else there is no way to access the channel without authorization.