Nowadays the usage of email has becomes more and more popular especially for the busy professionals which need to handle a lot of mail in their daily operation. Taglocity 2.0 is an email management add-in for Microsoft Outlook 2003 and 2007 that helps users to manage their email better. Taglocity 2.0 puts the best productivity features of Gmail into Outlooks which include enhanced search, conversation threading, tags, automation, attachment handling, contact centric views and new group collaboration features.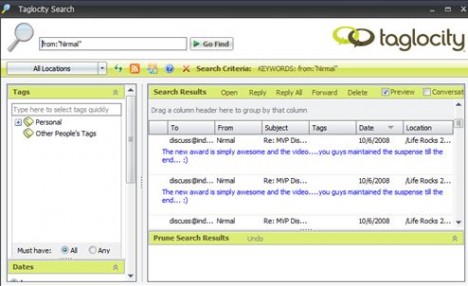 One of main features of Taglocity is allow users to assign unlimited keyword "tags" to any Outlook items like email, contacts, calendar entries and etc. This helps to create an organizational system better and a better search functionality in Outlook.
Additionally, Taglocity 2.0 also delivers another popular Gmail feature to Outlook, proper conversation viewing – A single mouse click brings up all related email in a single viewer in blog like chronological order. Taglocity also able to turn e-mails into appointments, assign additional tags, or automatically move message into specified folders.
Taglocity is available in free standard and paid professional version. The paid version is for enterprise user which has additional features. However, the free version gives a 30 day trial of enterprise edition and click here to download. A free Taglocity account may be required to be created to activate the product.