Speed dialing is quite an important and useful feature that allows faster access to your phone book and make phone call whenever necessary. If you wonder how to make a tiny icon shortcut on your iPhone's home screen for such purpose, below are some simple steps that can provide such capability in your native iPhone feature known as Web Clips without the need of jailbreaking it or with additional apps installed at all.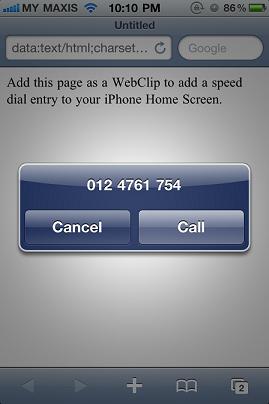 First, open Safari web browser on your iPhone and type in http://(mobile number).tel.QLNK.net.
Once connected, a Call message with both Call and Cancel button will pop up. Tab on Cancel button.
Tap on '+' sign at the bottom of the screen and then tap on 'Add to Home Screen'.
Name the Web Clip accordingly, for instance, you can put in name of recipient or etc.
Tap on 'Add' will add the new shortcut icon on the Home screen, just like as and when you install a new app.
By now, you should be able to find a new shortcut icon and simply tap on it will allow you to make quick calling to anyone without the need to browse through contact list or key in the full mobile phone number.