There are quite a number of great and free web browsers being offered to the market such as Firefox, Opera and Safari and if you only have one web browser installed, you might encounter some display issues or even not able to access to the webpage. Different browsers perform differently and are very much depending on what you are doing with them, therefore install multiple web browsers has became a norm nowadays. If you would like to change default browser to another from time to time based on the need, instead of looking around to change the default setting manually, now there is a free utility, named as BrowserTraySwitch that is able to help you to perform the switching easily.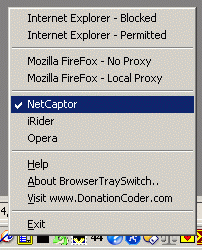 BrowserTraySwitcher is a free and tiny utility that allows you to change your default web browser with just a single click. Once you install and run it, it doesn't launch with any interface but instead will just sit at system tray silently. It will detect and add all web browsers that have been installed in your computer to the system tray context menu list automatically. To change default web browser, just click on the system tray icon and select any web browsers from the context menu list.
You probably wonder what the advantage of changing default browser is. When you make the web browser as default, any links you click will be automatically launched by using the default web browser, that makes it one of the useful utilities in your PC system.