If you are owning Dreambox satellite decoder and are using it to receive multiple channels from different countries with multi-languages selection, you may be annoyed with the random audio settings for certain or all channels which you are not familiar with. If you would like to figure out the way on how to configure it to use certain language as its default setting, here is a simple tip that you can follow.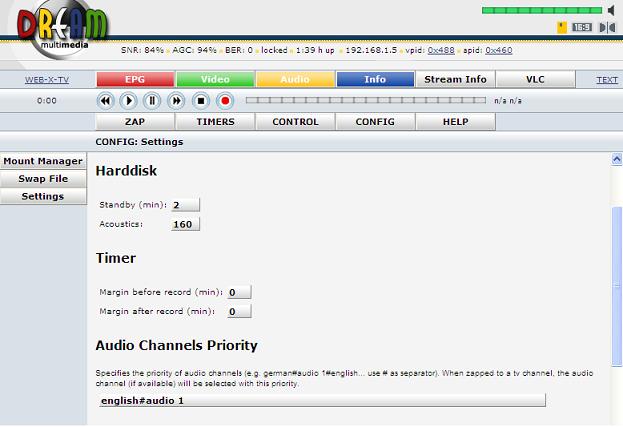 Since the setting cannot be accessed using remote control, users will need to access Dreambox Enigma web interface on PC screen for configuration by following below steps:
Connect both PC and Dreambox using Ethernet cable.
On the Dreambox remote control, go to Menu -> Setup -> Expert Setup -> Communication Setup and read the IP address of the Dreambox. The IP address will be used on next step.
On the PC screen, launch Internet Explorer and key in the IP address in the address field. For instance: Type http://192.168.1.5 (following IP address shown in Step ii).
Once prompted by password, enter 'Root' as User Name and 'Dreambox' as Password to access the Dreambox.
On the main menu, go to 'CONFIG', then browse to 'Audio Channel Priority' and under its field, users can specify the audio channels' priority here. For instances, put in English#audio 1 and the specified audio channel will be selected with highest priority whenever the system restart).
Click 'Save' and reboot the system using remote control and you are done.
Hopefully these simple steps will help you to pre-configure your preferred language selection without the need to toggle the audio button on remote control for manual selection each and every time when switching channels.