Do you have any favorite songs encoded in MP4 (MPEG-4) formats and your multimedia player only able to play MP3 formats? There is a free application to extract the audio data from your favorite MP4/MPEG4 video files and convert to the most popular MP3 formats which called as Convert MP4 to MP3.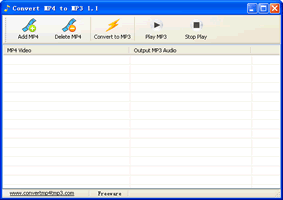 Other than MPEG4 format, Convert MP4 to MP3 also supports other video formats like AVI, DivX, Xvid, FLV(flash video), Quicktime video(.mov), DVD video, VOB video and more. Although it is a simple program but it can produce good quality of MP3 audio. The interface of Convert MP4 to MP3 is simple and easy to use. Users can just add the MP4 files and click on the convert button. Once all the conversion jobs completed, the users can click "Play MP3" button to play the MP3 audio.
In addition, it supports most of the Windows Operating System including Windows 7 as well. Convert MP4 to MP3 is a freeware and available for download with current version of 1.1.