You probably might have lost your Windows 7 installation disc or your supplier didn't give you one when the pre-installed Windows 7 computer was delivered to you. To safeguard yourself so that you are able to continue doing work or retrieve information when your Windows is incorporated but did not start correctly, it is always a good idea to prepare a Windows 7 System Repair Disc for any emergency use. Windows 7 System Repair Disc allows users to boot the computer and load Windows Recovery Environment (WinRE). Windows Recovery Environment offers Windows 7 users a set of recovery tools to help users to diagnose the problems, recover serious technical errors created and restore the computer from a system image. Users can create this repair disc and bring along with their computer/laptop for any emergency use.

To create a Windows 7 System Repair Disc, users need to go to Control Panel -> System and Security -> Backup and Restore. Users can thence look for "Create a system repair disc" in the left pane. Alternatively, users can just type recdisc.exe in the search box at the Start Menu.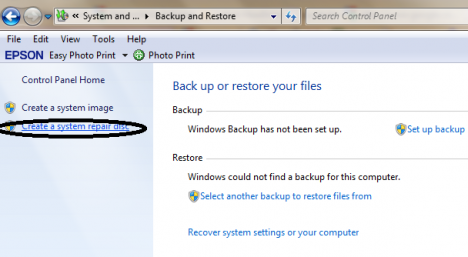 Once users have clicked on the "Create a system repair disc", users will be prompted a small windows which requires users to insert a blank disc into the drive to start creating a system repair disc. Once users have inserted a blank disc, they can click "Create disc" to start creating the system repair disc.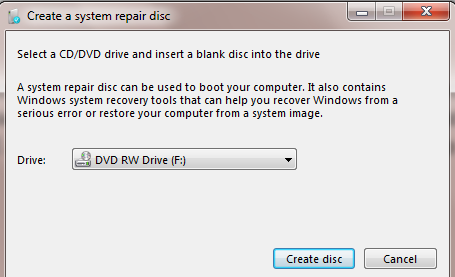 The System Repair Disc creation process takes just a few minutes. Once it is done, users can keep the System Repair Disc for any emergency use in the event the OS cannot be booted properly. If users want to access the Windows 7 System Recovery Options during emergency, users just need to insert the disc and choose to reboot their computer via the CD/DVD drive. When users boot their computer via this repair disc, users will be prompted with a list of System Recovery Options for users to select: Startup Repair, System Restore, System Image Recovery, Windows Memory Diagnostic and Command Prompt. Users can thence select the relevant options and click 'next' to continue.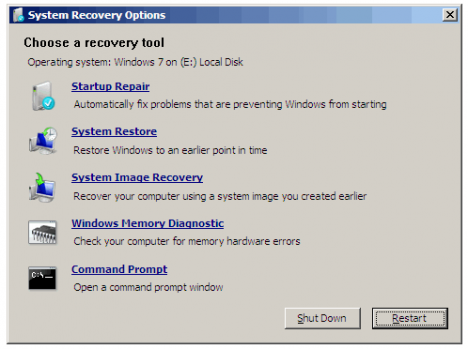 Generally the creation of Windows 7 System Repair Disc is not complicated or difficult. Users are advised to create one for emergency purposes. Even though this repair disc doesn't allow users to reinstall the whole Windows OS, it can be a pretty useful tool to reboot the Windows and allow users to retrieve some important data without much delay.