Do you intend to create your own auto run program from USB device once it is inserted to USB port so that you can have your presentation started without any further delay to look for the file or program? Instead of going through few clicks to go to the folder and look for the file, now you can save these hassles by creating your own auto run program for files, pictures, videos or any executable applications with a free utility named as USB AutoRunner.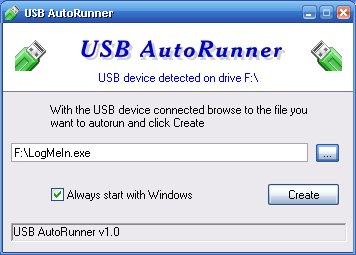 To create auto run program for any file or application by using USB AutoRunner, the file or application must be kept into USB device and the USB device must be inserted into USB 2.0 host port. Otherwise USB AutoRunner will display device not found and you will not able to browse any file or application. The user interface is quite user-friendly and easy to use. Once you have USB device inserted into USB 2.0 host port, just launch USB AutoRunner and browse for the file or application which you would like to create as auto run program, then click Create button and it will generate Autorun.inf file into it. By then, the file or application will be auto run whenever you insert USB device to your computer.
USB AutoRunner version 1.0 is a freeware and is compatible to all Windows OS such as 95/98/ME/NT/2000/XP/Vista. Consumes only 0.16 MB of your hard disk space, it is worth to be downloaded and installed for much more effective work.