When creating a new user account in Google Apps, a service rom Google for using custom domain names with several Google products including Gmail, an "username is reserved for email list only" error message is displayed when administrator wants to add abuse and postmaster as user account username or alias.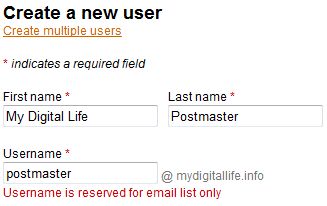 The error message is not actually an error, as the behavior is by design of Google Apps. By default, Google Apps delivers the email messages sent to abuse (i.e. abuse@domain.com) and postmaster (i.e. postmaster.domain.com) aliases to Google Team for monitoring to ensure that all reports of spam, abuse and technical issues are addressed. Thus, abuse and postmaster are assigned as reserved aliases and cannot be used as usernames or nicknames.
As such, the delivery of email message to abuse and postmaster user account of your domain will directly goes to Google Team. For administrators who want to receive a copy of messages sent to abuse@domain.com and postmaster@domain.com, the workaround is to create email lists for both abuse and postmaster addresses, and then add in administrator's email address or any email address including external from gmail.com as one of the recipient.
Email list in Google Apps is actually mailing list that delivers and sends emails to a group of people. To create a email list in Google Apps to receive mail messages sent to abuse and postmaster users, follow the instruction below.
Log in to your control panel.
Click User accounts.
Click Create email list.
Enter abuse (and subsequently postmaster) the name of your list in the box under Choose a name for the new email list.
Add recipients by entering usernames or email addresses one at a time in the box under Add a recipient.
Click Add recipient after each username you enter.