Have you plan or looking for funky holiday e-cards to send to your friends this holiday seasons? CardFunk is an online web service which allows you to create funky holiday cards and greeting cards that you can send to your friends during this holiday season. It allows you to paste your face picture or your friend's face picture on the body of a dancing character like Santa Claus, Sexy Santa or Santa's elf. Beside that, you can even let them dance together with the faces that you have paste.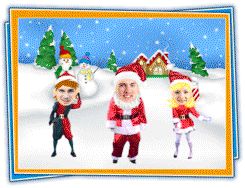 To start create the card, simply picking the number of characters that should appear on the eCard. It allow from one to five. After that, drag and drop the character models such as Santa Claus, Sexy Santa or Santa's elf. Then, you can upload the pictures of faces that will placed on the characters heads. Once you have adjust nicely the face and fits on the models, then set a background, music and the last step is to add a personal short message to the e-Card. There have several option available either you want to embed the card on a website, to send it through email or to send the link directly.
Visit http://www.cardfunk.com/.