Skype has implemented own uPnP (Universal Plug and Play) protocol since version 3.8 which is no longer dependent on Microsoft uPnP framework. PnP is an computer protocol designed for automatic device configuration, and Skype has made used of it to provide seamless experience when computer is connected to existing or new device on network, mainly to open firewall port (pinhole) and port forwarding or mapping (PMP) for NAT (Network Address Translation) routers.

Along with the self implmentation of uPnP, Skype has since removed the "Allow Skype to modify my firewall settings" option checkbox, and in newer version of Skype, uPnP is enabled and turned on by default. The result – random TCP and UPD ports been opened and forwarded by Skype in the firewall, which some users may regard as pinhole – ports mapping without user's notice.
For example, in 2wire router or gateway (Ethernet or wireless), the opened and mapped TCP and UDP ports appear as "hosted applications" for a particular hosting computer in firewall, with Skype as allowed applications. For example,
Device Hosting:
Skype UDP at 188.88.1.88:8888 (967)
Skype TCP at 188.88.1.88:8888 (967)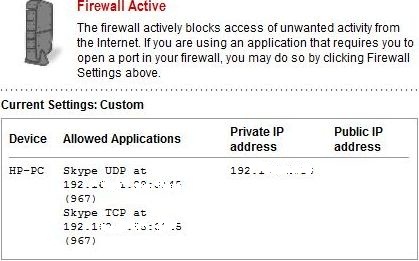 UPnP is good to ensure good connectivity. In fact, it's a feature of UPnP to allow all applications that are uPnP compliant to open ports directly on network devices without notice, warning or notification. For users who don't want automatic UPnP manipulation behavior by Skype and other programs can disable UPnP on the networked devices.
However, not all devices support turning off of UPnP support. Some devices such as SpeedStream ADSL modems may also disconnected from Internet when UPnP is in action. From Skype 4.0, users can now also disable and turn off uPnP by Skype on Skype application itself.
How to Disable uPnP in Skype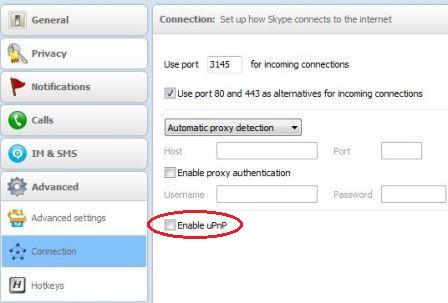 In Skype program window, go to Tools menu, and select Options. Expand Advanced branch, and select Connection. Unselect and untick check box for Enable uPnP option, and click Save when done.
Note that user may need to manually require any existing uPnP opened ports by Skype in firewall, although no new ports will be automatically open by Skype.