Office 2010 is the first version of Microsoft Office productivity software applications that come in both 32-bit (x86) and 64-bit (x64) versions. However, many add-ons, plug-ins, or third-party application programs does not yet support nor compatible with 64-bit version of Office programs, especially Outlook 2010 where synchronization and interaction with external programs is essential.

As the result, some functions may be broken or not working when installed on a system with 64-bit (x64) version of Office 2010. If you're encountering such situation, one option is to push for developer to provide an updated software which compatible with and supports 64-bit Office 2010, or to downgrade from 64-bit version of Office 2010 to 32-bit flavor.
Most of the time, it's easier to simply downgrade from Office or Outlook 2010 from 64-bit to 32-bit. If you decide to do so, here's a guide on what should you pay attention to and how to downgrade from Office 2010 x64 to Office 2010 x86.
Ensure that you have the existing product key for Office 2010 available on hand. The product key can be used to activate both 32-bit and 64-bit editions of Office 2010.

If you lose the original Office 2010 product key card or forget the product key, use one of the product key viewers to retrieve the existing product key in used from the system.

Download the 32-bit setup installer for Office 2010, which is the same edition with the 64-bit version.

If you have Office 2010 CD, you can use the disc to install, as each CD contains both 32-bit and 64-bit variants.

Uninstall Office 2010 64-bit from Programs and Features of Control Panel.

You may also want to uninstall and remove Microsoft Outlook Hotmail Connector 64-bit and Microsoft Outlook Social Connector Provider for Windows Live Messenger 64-bit, if installed, which is meant for 64-bit Office 2010.

Restart the computer.
Install the 32-bit version of Office 2010.

Enter the existing product key when asked to enter product key, the continue the installation wizard to install Office 2010 x86.

After installation completed, reboot the computer if instructed.
Run any Office 2010 program, the Microsoft Office Activation Wizard will automatically appear on first run. Click Next button to activate the Office system.

Once activated, you can start using any 32-bit Office 2010 programs with retained settings, configurations and data files from 64-bit Office 2010. This include Outlook 2010 which will continue to use and open the default PST (Outlook Data Files) and profile.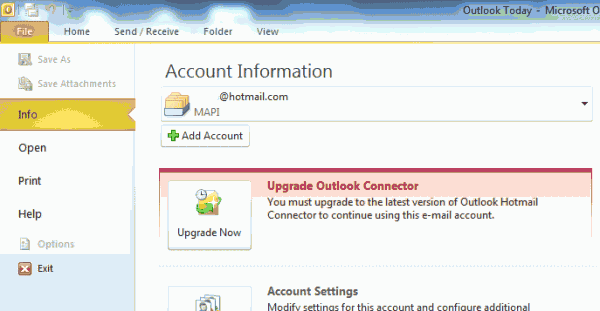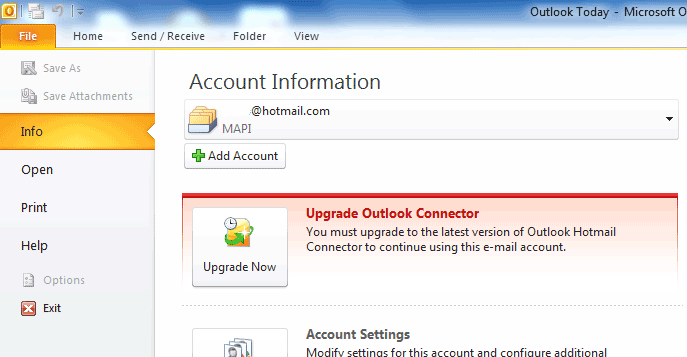 If you're using Outlook to access Windows Live (MSN) Hotmail, you will have to update the Outlook 2010 Hotmail Connector.