When browsing a web page which has lots of beautiful pictures, graphics, photos and images, or has embedded Flash video, or has attractive icons and other media components or elements, Firefox 3 can download and save all of these graphics and media on the web page altogether at once simultaneously, without any plugin, extension, add-on or third party programs.

To download and save all web page's graphics, images, icons, media and other files, click on the site identification icon to the left of the Location Bar.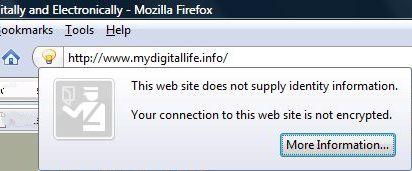 The Site Identity Information button is the new feature of Firefox 3, and normally represented by the favorite icon (favicon.ico) of the website. When clicked, a dialog will display information about the site with a "More Information" button. Click on the More Information… button to open "Page Info" dialog panel.
Click on the Media tab. All elements such as background, image, icon and embed on the web pages are listed in the elements listing, together with their respective address link location. Some graphics even come with a preview. Select and highlight any element that wants to be saved, then click on Save As button.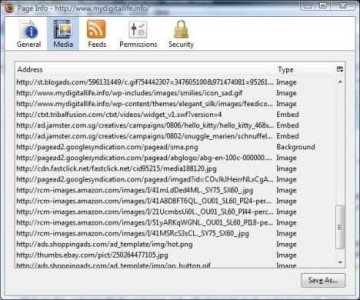 To download and save all file elements on the web pages, press Ctrl-A to select all (everything), then click on Save As.