In effort to improve its Google Docs for mobile users to edit documents and spreadsheets, Google has upgraded its Mobile Google Docs with editing features for users to edit their important documents or spreadsheets from Apple or Android devices while on the go.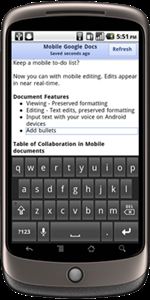 Key features of the Mobile Google Docs includes:
Access document list – create, search and open documents while on the go.
Edit spreadsheets – make quick changes using the list view.
Edit documents – editing which has make on mobile device will appear to other collaborators in seconds.
Able to view documents, PDFs, images and more – view the files which have uploaded in the mobile Google Docs Viewer.
The new Mobile Google Docs with editing features is now available for Android devices with the Froyo operating system (version 2.2) and Apple devices such as iPhone and iPad with iOS 3.0 and above.
How to get start to edit documents or spreadsheets from mobile devices with the latest Mobile Google Docs:
Visit docs.google.com from the Android devices (Froyo v2.2) or Apple devices (iOS 3.0 and above).
Select the document which want to be edit.
Once viewing, press the Edit button to switch to the mobile editor for start editing.