Windows Media Player 12 (WMP12) is the next version of Windows Media Player software that comes bundled with Windows 7, the next version of Windows operating system from Microsoft. WMP 12 features additional built-in codecs and lots of graphical user interface (GUI) improvement, which makes WMP12 more elegant. With the redesign, some common controls and settings in WMP has also been repositioned.

For example, the enhacements setting in Windows Media Player 12 such as crossfading and auto volume leveling, graphic equalizer, play speed settings, quiet mode, SRS WOW effects, video settings and Dolby Digital settings have been removed menu and preference in WMP12 Library view, and only available hidden in Now Playing view or Skin mode.
So, in order to access Windows Media Player Enhancements configuration, user has to switch to WMP 12 Now Playing mode or Skin view. To do so, follow the step-by-step guide.
Switch to WMP12 Now Playing or Skin View
In Windows Media Player 12 Library view, click on Switch to Now Playing shortcut icon to instantly change to Now Playing view.

Alternatively, press Alt key to display the menu bar, and then go to View menu, and click on Now Playing or Skin to switch to Now Playing or Skin view respectively. For keyboard shortcut, press Ctrl+2 to switch to Skin view, or Ctrl+3 to switch to Now Playing mode.

How to Access Graphic Equalizer, SRS WOW Effects, Crossfading and Auto Volume Leveling, Play Speed Settings, Quiet Mode, Video Settings and Dolby Digital Settings
Press Alt key to display the menu bar, and then go to View menu to select Enhancements in the pull down menu. The following enhancement options can be found:
Crossfading and auto volume leveling
Graphic equalizer
Play speed settings
Quiet mode
SRS WOW effects
Video settings
Dolby Digital settings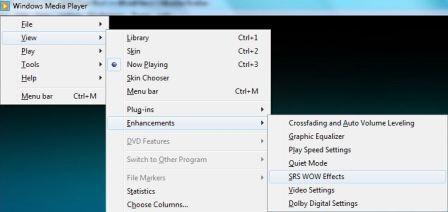 An alternative method to display Enhancements menu in WMP12 is to click on Show List on the top right corner to display the playlist, and then click on the button on the end of the Playlist pane, and then go to Enhancements menu item to display all options available.