Nowadays, the specification of CPU and video adapter card is very crucial for smooth running the games especially some games that apply a lot multimedia effect. GPU-Z is a lightweight portable application that designed to provide the details information of video card. GPU-Z is simple to use, the user only need to loading up the GPU-Z then all the details from basic GPU information to memory type of the card and driver versions will be retrieved and displayed. Beside that, it also able to provide the memory utilization, GPU temperature and fan speed.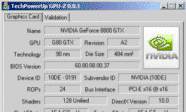 The main features of GPU-Z as below:
Support NVIDIA and ATI cards.
Displays adapter, GPU and display information.
Displays overclock, default clocks and 3D clocks (if available).
Validation of results.
No installation required.
Support for Windows 2000 / XP / Vista (both 32 and 64 bit versions are supported).
GPU-Z has been upgraded from to the latest version of GPU-Z v0.3.1. It is available for free download.
Highlight of new features of GPU-Z v0.3.1 as below:
Fixed crash on systems without NVAPI (Win 2K, old NV drivers).
Optimized RV770 BIOS reading code for speed (faster application startup).
Improved voltage reading code for recent ATI cards.
Canged reading method for RV770 sensors, fixes race conditions with other software and on-board fan control.
VIDIA 9800 GTX+ listed as 55nm now.
Added support for fan speed monitoring on ForceWare 180.xx and up.
Added voltage monitoring for NVIDIA (GT200).
Added support for Intel Q43/Q45.
Added support for NVIDIA Quadro FX 4700 X2, GTX 295, GTX 285.
Added preliminary support for NVIDIA GT212, GT214, GT215, GT216, GT218.