Normally IE (Internet Explorer) doesn't allow multiple versions to be existed in a single computer. Once you have the latest version of IE installed in your computer, the previous version of IE will be overwritten. It shouldn't cause any problem to users who use it for surfing net. However, if you are a web developer, then you might encounter inconvenient as you need multiple versions of IE to test out your web application to ensure it works fine without any misalignment problem. With Multipe IE solution, it is possible to run multiple versions of IE in the same computer.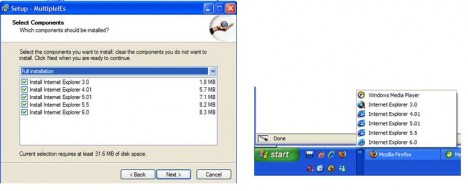 Multiple IE is freeware and it is an executable file which has been bundled with IE 3.0, IE 4.01, IE 5.01, IE 5.5 and IE 6.0 into one package. Once you execute this file, it will install all these versions of IE in your computer at one time. If you don't want all of these versions to be installed, you can untick any version that you don't want in the setup screen, then it will only install based on the versions which have been ticked. After installation, you can launch any version of IE as you like from the start menu. In order to make you recognize what IE versions are running at the same time easily, this package is capable to display the IE version on the IE title bar. It is done by removing IE registry subkey: HKEY_LOCAL_MACHINE\SOFTWARE\Microsoft\Internet Explorer\Version Vector. By default, once the subkey is removed, IE will display the IE version number pre-built in the program.
Multipe IE only works in Windows XP. One thing to remind here is IE5,IE5.5 and IE6 may crash unexpectedly sometimes. If you would like to have multiple version of IE installed in your computer, click here to download Multipe IE.