Do you looking for ways to merge multiple sound files into one recording such as merge ripped CD tracks into one, combine multiple chapters of an audio book and etc. You may try Merge MP3. Merge MP3 is a free program that allows you to drag and drop MP3 files onto a playlist, change the order, preview the audio and then mix them all into a single MP3 files along with APIC images and ID3 meta-data.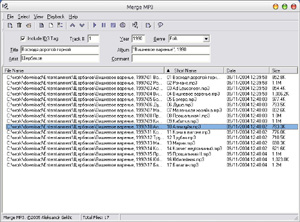 Merge MP3 allow merging as many files as you like which not has size limitations and length. Other features of Merge MP3 as below:
Sort files to be merged by filename ( with or without directory), date/time or size.
Optionally write ID3v1 and ID3v2 tags into the merged MP3 file.
Optionally write VBR frame into the merged file and is useful when merging files with different bitrates.
Choose to use ID3 tag from any of the files to be merged to write into the target file.
View detailed information about MP3 files to be merged, including MPEG header information and ID3v1 and ID3v2 information.
Display an image embedded into the MP3 files.
Play MP3 files from the list to be merged.
No complicated installation – simply unzip the program and run from any directory.
Very intuitive interface and fast merge speed.
It is absolutely free.
Download the latest release . Simply unzip MergeMP3.exe from inside the ZIP file, place it into any directory and execute it.