The wave (message or conversation thread) in Google Wave normally open in a pane or box to the right side of the browser's window, expandable to take up and show in more screen estate and even whole window if user minimize the waves listing pane, navigation pane and/or contacts pane.

When a wave is already open, if user click to open up other wave, the newly opened or access wave will replace the existing wave on display, effecting close the currently open wave.
Been able to work on one wave at a time is inconvenient to some users, who prefer to look and browse at many waves at the same time concurrently. Google Wave has built-in feature to support opening of multiple waves at the same time, without any hack.
To open more than one waves on the screen, press and hold Ctrl key when click on the wave (in the waves listing in Inbox, By Me, All, search results or any other folders) that want to be opened on bottom or right side of the current waves.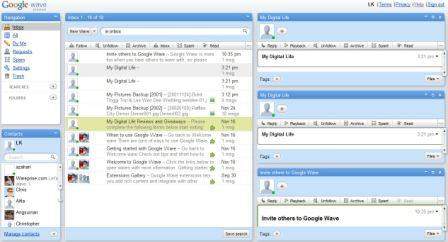 The new wave will open to the bottom of existing shown waves, before moving further right if more waves are displayed simultaneously, and screen horizontal resolution is wide enough. All waves works just like a single wave, with ability to close or exit from any wave window by clicking on the "X", and ability to maximize and minimize the waves' window.