Sometimes it is very helpful to have a reminder if we can mark some events or summarize a list of events happen during that particular month in a calendar and pastes it somewhere. However, without the printout copy of calendar, we can't even able to do so. If you are the person like to remind yourself by writing events on the calendar, now there is an easier and cheaper way for you to make your own calendar by printing from Outlook.

To print out a blank calendar from Outlook, follow below steps:
1. Click on File menu, choose New and followed by Folder

2. You will see Create New Folder window pop up. Under the Name field, type Blank Calendar, then choose Calendar Items from Folder contains drop down box. Click OK to save the setting.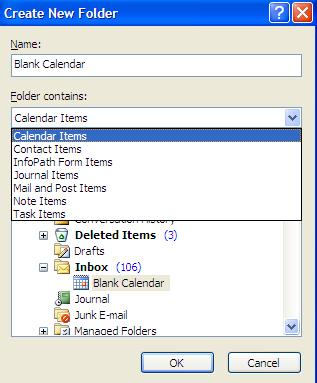 3. Go to Outlook navigation pane and click on Calendar.
4. You will see Blank Calendar you have created at step 2) appears under My Calendar group. Tick on it and make sure others items are un-tick. The blank calendar is displayed.

5. To print the blank calendar, go to File -> Print. You can choose to print either by daily or weekly or monthly style. Remember to choose the date range of the calendar you are going to print. If you are not sure of how the style will look like, just click on the Preview button to let you preview of the format before printing.