There are many satellite decoders in the market that have already been equipped with PVR (Personal Video Recorder) functionality such as higher end Dreambox 800HD or the most affordable Openbox/Skybox/Yumy brand. However, for those older generation decoders such as Dreambox DM500s that doesn't have such feature but don't be disapointed, there are actually still ways to do recording directly on PC with simple setup.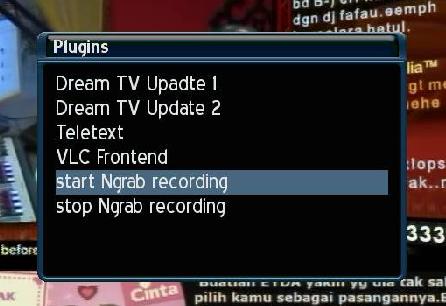 First, download and install Ngrablite or Ngrab on your Windows PC.
Launch Ngrablite or Ngrab and on your taskbar, right click on the icon to do initial setup. Key in the IP address (from step iii. below) and Port number as 4000 with the destination folder that you want the media clips to be saved into PC.
Then, read the IP address of your Dreambox decoder by going to Menu -> Setup -> Expert Setup -> Communication Setup, which will be needed to be keyed into step 2.
On the remote control, go to Menu -> Setup -> Expert Setup -> Ngrab Streaming Setup. Under the Srv IP field, put in the IP address of your PC, and Srv Port as 4000 followed by a button press on "detect MAC address".
By now, you will be able to control the start/stop Ngrab recording by going to access both the 'start Ngrab recording' and 'stop Ngrab recording' on the menu access by going to Menu -> Setup -> Blue-Panel -> Plugins (Tools). Alternatively, users can assign a quickbutton to access submenu faster for greater user experience.