Basically Cookie is a message given to a web browser by a web server and this message will be saved in a text file that will be sent back to the server the next time the page is referenced. The benefit of having cookies is to identify users so that the web server can prepare some customized web pages for them. For instance, the most common use of a cookie is to store a user ID and when you visit to the same website again, the cookie stored with your user id will be sent to the web server, so that you can be auto login to the page and see a welcome page with your name displayed on it. The more you browse the web, the more cookies are stored on your computer. Each cookies have its own life time and can be vary from seconds to years. The common problem is IE never remove expired cookies that could potentially cause your hard disk drive to be filled up with hundreds or even thousands of unused cookie files. Instead of removing the whole cookie files completely, now there is a utility, named as Expired Cookies Cleaner that can help you to identity expired and unused cookies and eventually clean up the expired and unused cookies in just few seconds.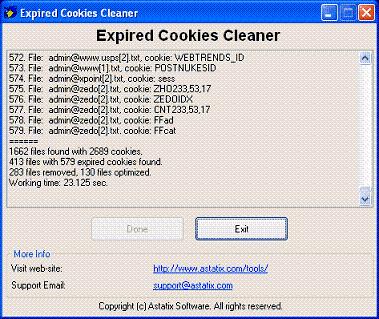 Cookies are stored in multiple files and one file may contain multiple cookies. Based on the fact that not all of the cookies that resided in the file are expired and in order to only delete those unused or expired cookies, Expired Cookies Cleaner is able to identify expired and unused cookies inside the file and only delete those expired and unused cookies within the file. If it detect all cookies inside the file are expired, then the whole file will be removed instead. With this smart feature, the active cookies will be remained so that you can continue to enjoy the advantages of having cookies while freeing up some disk space to speed up your computer performance.
Expired Cookies Cleaner v1.02 is absolutely free for download and is compatible to run on Windows 9x/Me/NT/2000/XP/2003/Vista. If you use IE as browser, you might need this utility to clean up expired and unused cookies from time to time for optimized system performance.