Does your Windows XP running on Service Pack 3? You may find out that the Windows address bar which usually can be activated by right clicking on Taskbar -> Toolbars has been removed, due to antitrust legal complication. As such, users have to find the replacement program or shell add-in that able to replace or restore address bar into task bar. MuvEnum Address Bar is one of such alternative.

MuvEnum Address Bar is the ultimate replacement for the missing address bar in the Windows XP SP3. It recreates the experience of the original address bar and adding many new features from Internet Explorer, Firefox 3.x and Google Chrome. One of the features like system-wide hotkey that allow you to quickly open websites, navigate to favorites, start programs, search the internet and etc.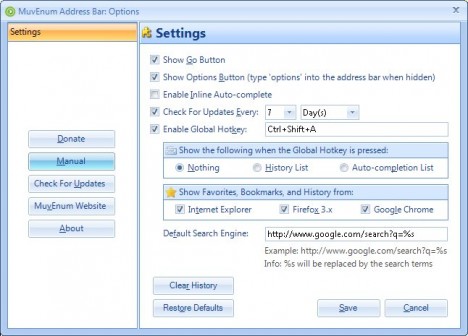 It also able to combine and shows the favorites, bookmarks or historical either from Internet Explorer, Firefox 3.x and Google Chrome. Other features like able to set focus to the address bar using a global system-wide hotkey (Defaults to Ctrl+Shift+A) and support the following original address bar features such as Environment Variables, System Locations, Favorites, Quick Search Aliases, History and Inline Auto-Completion.
Currently, MuvEnum Address is available for free download.