iPhone is great for speedy typing partly due to its memorable dictionary in its built-in soft keyboard but occasionally, you may experience that some wrongly typed words are being suggested again and again which could be quite annoying, significantly affect the accuracy of its content and typing speed. Not to worry now as there is actually a way to reset all those memorized custom words in its keyboard dictionary.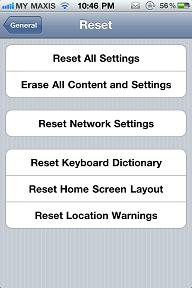 In actual fact, the steps are pretty straight forward but most of us tend to overlook such built-in feature.
First, go to 'Settings', then tap on 'General'.
Scroll down to bottom-most and you will find a 'Reset' submenu.
Tab on it will bring you to a new interface. Over here, you will realize that there are many Reset functions that can be performed including 'Reset All Settings', 'Reset Network Settings', 'Reset Home Screen Layout', 'Reset Location Warnings' and many more.
In order not to reset other settings unnecessarily, tap on 'Reset Keyboard Dictionary', follow by 'Reset Dictionary' button and you are done. By doing so, it will delete all custom words that you have typed on the keyboard, regardless if there are correctly or incorrectly typed, returning the keyboard dictionary to factory settings.
By now, you should notice that all the custom words (including those wrongly typed words) will not pop up and just repeat the same steps in case you have too many typo later.