One good thing of using Firefox browser is it allows you to open new page in a new tab instead of a new window, so that you don't need to switch from one window to another. However, the default width of the tab displayed might be too long and can easily occupy all of the space when you open up to 6 tabs within the same window. If you would like to change the width of the tabs to become the same size as its favicon, you can do it by installing the Firefox plugin, named as FaviconizeTab.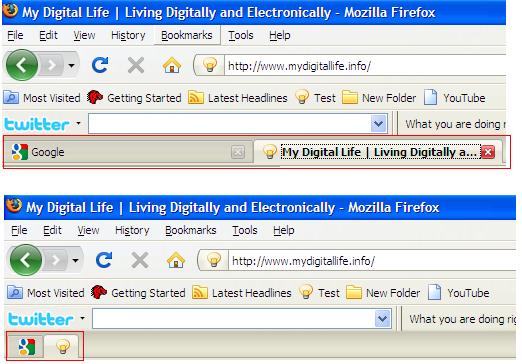 Follow below steps to get FaviconizeTab installed and turn on the feature to resize the width of the tab:
1. Download and install FaviconizeTab.
2. Restart Firefox to activate the plugin.
3. Once Firefox is restarted, you will see the list of installed extensions displayed in the add-ons pop up window. Alternatively, you can go to Tools -> add-ons to bring up the add-ons window. Look for FaviconizeTab, click on the Options button.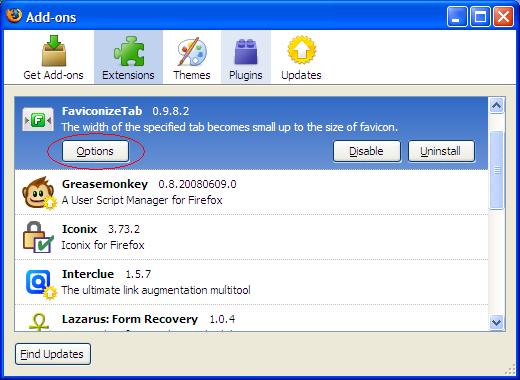 4. At FaviconizeTab preferences window, set the method you would like to activate FaviconizeTab feature when clicking on the tab. For example, I choose "Double Click". Click OK button to save the setting.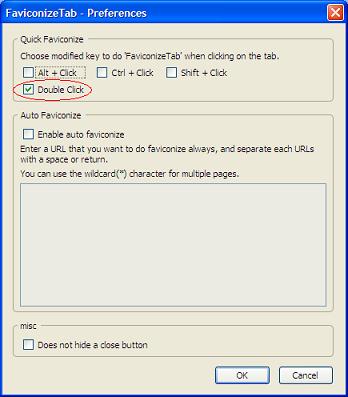 5. Simply open a new tab, then double click on it. You will notice the width of the tab has been changed to the favicon size.