Windows 7 finally re-included one function that originally exists in Windows XP (with Secondary Logon service enable), but been removed in Windows Vista, and that is Run as different user. Instead Windows Vista users have to make use of RunAs.exe console tool or the ShellRunAs shell extension from Windows SysInternals as a workaround to launch programs as a another different user.

Windows 7 has built-in feature of Run as different user. Run as different user, or run as another user command allows end-user to execute or launch an application program with another user credentials. "Run as different user" option is different than "Run as administrator", as users don't have to elevate to simply run as different user. Run as different user option does accept credentials of an admin user, but it will be running as that user with non-elevated credentials. Besides, "Run as different user" also supports net only credentials, which Run as Administrator doesn't.
How To Run as Different User in Windows 7
Run as different user feature is built-into as an option in the hidden extended right click contextual menu of Windows 7. Which means by simply right clicking, there won't be Run as different user option been shown in right click context menu. To display Run as different user command, press and hold Shift key while right clicking on an executable file or its shortcut.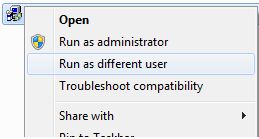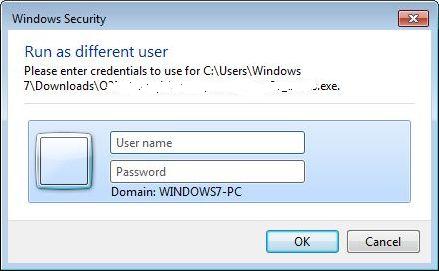 Check out complete listing of Windows 7 usage guides, tips and tricks.