Have you ever tried to send huge files, photos and videos to your friends but unable to get through? The common way to share them is by attaching in the email and send to your friends' mailbox. However, most email services will limit the size of file attachments up to 5MB or 10MB, or even lesser, that has restricted you from sending send high resolution photos and videos files to friends and family. Nowadays, there are number of free web services available that enable you to send large files over the internet. Sending large files has never been easier now and let's take a look of few popular and free web services which can solve the problem mentioned above.

Filemail



Filemail is fee, fast, secure and without the need to even signing up. It allows you send files up to 2 GB. The web interface is very user friendly and easy to use. You just need to enter recipient's email address as well as yours, and then browse for files to upload. You can upload multiple files at one time before sending to your friends. The recipients will receive the download link in the email. The uploaded files will be kept 3 days and allow downloading up to 10 times before they are removed completely from the web server. Please find out more by visiting Filemail website.
Dropsend



There are few plans offered by Dropsend. Different plans offer different features tagged with different prices. You can sign up for Free plan and it is free forever. You need to sign up prior to using the service and it is very straight forward to send file by using Dropsend. Just type the recipients' email address, enter the subject and message, browse files to upload and click send button. You are allowed to send multiple files at one time, each file can be up to 1 GB and you are limited to send up to 5 times per month. To pick up the files, the recipients don't required to sign up Dropsend account, they just click the link receive from the email to start downloading the files. The good thing about Dropsend is, it will help you keep track of what and who you have sent under Sent folder, and you have visibility of whether the files have been picked up. Please visit Dropsend website for more details.
Pando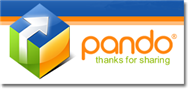 Pando does offer both free and paid plan. To use the service, you need to download Pando software tool to your PC. This tool is used to upload files to Pando server up to 1GB and then send the email to the recipients. The recipients will get an attachment email and click on the link to start the file downloading. You will know how many times your files have been downloaded as Pando software tool keeps track of it. Pando works well for both Windows and Macintosh systems. Complete details can be found at Pando website.