If you are a Dreambox user and have many satellite settings pre-programmed in your decoder, there could be a bit or additional work to go to specific channel lists whenever your Dreambox decoder is rebooted or restarted. But if you always have preferred channel lists that would like to be directly go to each and every time it is restarted, here is a simple steps that you can follow to get it done without involving other unnecessary hassle.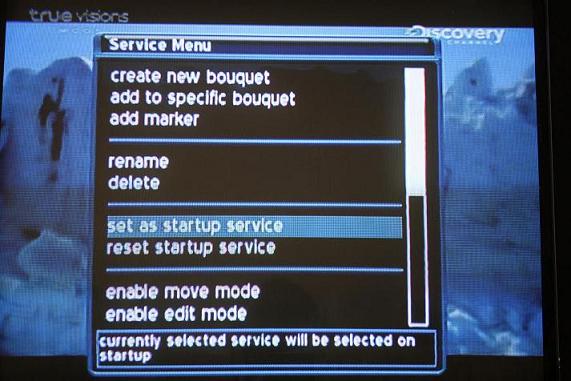 By default, when powering up the Dreambox decoder, it will always go to the same satellite and the channels which may not be your preferred list. And in order to change it, for instance, change to Discovery channel under Thaicom 2.5 KU satellite, users can browse to the respective satellite channels by following below sequence:
On your remote control, press OK to go to color button (Red for All Services; Green for Satellites; Yellow for Providers or Blue for Bouquets) to browse to the satellite and channel lists that you prefer. Ex: Discovery under Thaicom KU satellite.
On the channel list, highlight and then press Menu button, a Service Menu will pop up that allow users to set or reset startup service, on top of rename, delete, create new bouquet, enable move/edit mode and many more.
Browse to 'set as startup service' and click on it will configure the respective channel as a default startup service whenever you reboot your system.
Hopefully this simple trick will help configuring dreambox DM500s or other models of decoders to your favorite channel directly without going through unnecessary steps each and every time the system is restarted.