Sharing your email address through website like Skype, Twitter or Facebook is no longer secure. There are lots of spam robots and email harvesters grab emails from these websites from time to time and you can easily become a victim of spam target. If you accidentally click on the link inside the spam that you received, you are at risk of letting your private information being stolen by third party or your computer will potentially be infected by virus. Now there is an Internet service, named as scr.im that allows you to share your email safely and get less spam.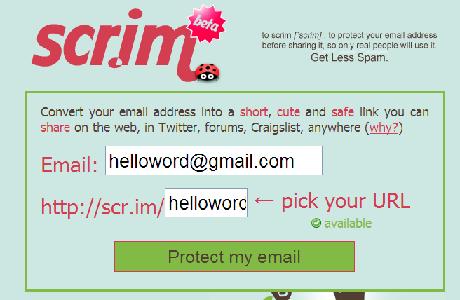 Scr.im is a free Internet service that will convert your email address into a safe and short URL. In order to have an easy-to-remember URL, scr.im allows you to define your own URL. For instance, the format of the URL is http://scr.im/xxx where xxx is the one you can define based on your preference. If your email address is helloword@abc.com, then you can have a URL which is close to your email, http://scr.im/helloword. Click on this URL will bring you to the humanity check page and once you pass the checking, it will reveal the protected email address and you can proceed to send an email by using this email address.
It is very common to hear about security vulnerability with email nowadays, if you don't want to be the victim, start using scr.im to get your email protected when sharing through website.