Apple's iPhone or iPad is in growing trend and has gradually replaced your laptop or PC as one of the best mobile companion for web surfing as you move around. If you wonder how you can synchronize all your favorite bookmarks from desktop web browsers regardless if they are in Internet Explorer, Mozilla Firefox, Safari or others into your iPhone/iPad for faster access, here are some simple steps that you can follow to get it done.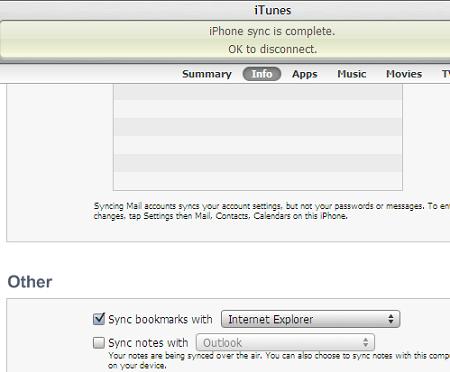 If you aware, iTunes app does support bookmark synchronization as one of the built in features but may only limited certain web browsers.
First, click on your iPhone/iPad device under 'DEVICES' located at left pane.
Then, click on 'Info' tab and scroll down to 'Other'. Tick on 'Sync bookmarks with Internet Explorer (or other web browsers).
Click on 'Sync' and just wait for all the bookmarks to be synchronized and transferred to your iPhone/iPad devices. It may take minutes depending on the amount of bookmarks that you have.
By now, move to your iPhone/iPad's screen, tap on Safari icon followed by an 'open' icon will open up all your favorite bookmarks that have been successfully synchronized from your PC.
While it seems to be limited to Internet Explorer or certain web browsers only, not to be disappointed, users can always synchronize bookmarks among different web browsers such as from Mozilla Firefox to Internet Explorer or vice versa using Foxmarks first before performing the steps listed above.
Hopefully these simple steps will help your transferring all your favorite bookmarks so that you can enjoy the same web browsing experience without the need to memorize or type any of them.