The attention of the world are now fast switching to the highly-anticipated Royal Wedding of Prince William and Kate Middleton, which will be held on April 29, 2011 at Westminster Abbey. As one of the few monarchy left in the world, millions of people around the globe are keen and interested in watching every precious moment of the event as it happens. Here's a great news for people who lives in countries where the cable, satellite or free-to-air networks do not broadcast the event live. But fear not, in Internet world, there can't be no online video streaming services that will broadcast the Royal ceremony live for watching over Internet for such major event.

With the Royal Household's permission, Google is providing the live streaming of the Royal Wedding ceremony on its dedicated channel for the British Monarchy Royal family – The Royal Channel on Youtube.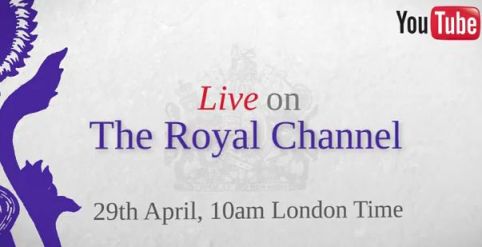 In addition to the live broadcast stream for the Royal Wedding, Youtube's The Royal Channel also features live commentary, historical info and procession route, as well as enabling you to send your best wishes to the couple by uploading a cheerful video messages to the "Wedding Book". After the event, the video compilations of highlights of the day will be published too.

Royal Wedding Book invitation
The Royal Channel is starting to live stream the wedding of the century at 10am (BST London), which is 2am (PST), 5am (EDT), 11am (CEST), 2.30pm (IST), 6pm (UTC+8), 7pm (EST) and 9pm (NZST),
Visit The Royal Channel on Youtube.
It's likely that the live broadcasting of Royal Wedding will also be posted on officialroyalwedding2011.org, the official Royal Wedding 2011 website for Prince William and Kate Middleton.