The world's computer manufacturer, Hewlett Packard has unveiled its latest desktop TouchSmart IQ800 series. TouchSmart IQ800 series bundles with 25.5 inch touch screen display and 1920 X 1200 screen resolutions. Beside the larger touch screen, it also offers with Blu-ray combo drive, TV Tuners with remote, built in webcam and etc. Additionally, it also including an ambient light to illuminate the wireless keyboard on the desktop or just set the mood. All the features offers in the TouchSmart IQ800 series have made it nearly to the home theater.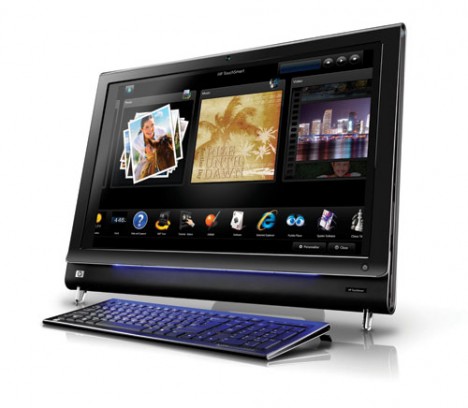 Currently, HP offers two models for IQ800 series which are IQ804 and IQ816. IQ804 is offer for average use with 2.16GHz Core 2 Duo, 4GB of RAM, 500GB of Hard Disk, DVD burner and GeForce 9300M GC for graphic displays. While IQ816 is offer for more high specification which with build in Blu-ray combo drive, Penryn-era 2.1GHz Core 2 Duo, 750GB of hard disk and GeForce 9600M GS video. Both of the models support Wi-Fi over 802.11n.
HP estimates to launch IQ804 model by next week for the price of $1899 and IQ816 to be launched at mid of October with the price of $2099.