Wanna upgrade your old handset to a new 4G-enabled Android smartphone for taking advantage of Sprint's speedy 4G network? In my opinion, one of the most notable upcoming 4G-enabled Android-powered mobile phones are the highly-anticipated HTC EVO 3D that allows users to enjoy glasses-free 3D experience while on-the go, and the newly-announced Motorola PHOTON 4G that offers international roaming capability. If you have the same thought with me, and wanna know more details of both handsets to help in consideration of buying either one of them, then the following comparative table of HTC EVO 3D vs Motorola PHOTON 4G might be a quick reference you looking for.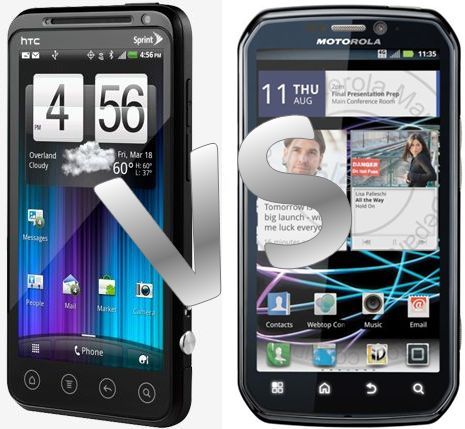 | | | |
| --- | --- | --- |
| HTC EVO 3D | Versus | Motorola PHOTON 4G |
| 1.2GHz Qualcomm Snapdragon dual-core processor | CPU | 1GHz NVIDIATegra 2 dual-core processor |
| 1GB | RAM Memory | 1GB |
| 4.3-inch Super LCD qHD (540×960 pixels) resolution 3D multi-touch display | Screen Details | 4.3-inch qHD (540×960 pixels) resolution multi-touch screen for hands-free multimedia viewing with an integrated kickstand |
| Dual 5-megapixel CMOS AF camera for 3D shooting, plus 1.3MP front-facing camera | Camera | 8 megapixel camera with 720p HD video recording, plus VGA front camera |
| Google Android 2.3 (Gingerbread) OS with HTC Sense user interface | Platform | Android 2.3 Gingerbread Operating System with Motorola MotoBlur UI |
| Pre-loaded HTC Watch, Blockbuster On Demand, Gameloft Storefront, DLNA capability | More Features | Global GSM roaming capabilities, enterprise security functionality, and optional Motorola accessory dock that offers a number of versatile tools such as Motorola webtop app |
| Yes | Support 3G/4G Mobile Hotspot (up to 8 Wi-Fi devices) | Yes |
| 4GB internal memory | Built-In Memory Storage | 16GB on-board memory |
| Bluetooth 3.0 and Wi-Fi b/g/n | Connectivity | Bluetooth 2.1 and Wi-Fi b/g/n |
| 5 x 2.6 x 0.47 inches | Dimensions | 5″ x 2.6″ x 0.5″ |
| 6 ounces | Weight | 5.6 oz |
| 1730 mAh | Rechargeable Lithium-Ion Battery | 1700 mAh |
From the table above, you may find that both of the contenders feature some similar specifications like same screen size, operating system, nearly same body size and so forth. Anyway, HTC EVO 3D and Motorola PHOTON 4G are actually not even suitable to pitch against each other, since their targeted customer range are different. As Motorola PHOTON 4G is built more towards taking care of business needs with enterprise security and international roaming capabilities, HTC EVO 3D provides users an unrivaled entertainment experience by offering 3D capture and 3D view capabilities.
HTC EVO 3D is scheduled to be available through Sprint for $199.99 beginning June 24 on a new 2-year contract commitment, while Motorola PHOTON 4G's exact launch date and pricing have yet to be announced.