Good news for Sprint and Android fans! HTC Corporation and Sprint have announced that HTC Hero Android phone is coming to Sprint on October 11, 2009. It's the first U.S. mobile device that incorporates redesigned UI – HTC Sense, combining open and innovative Android platform with high-speed connectivity of America's most dependable 3G network.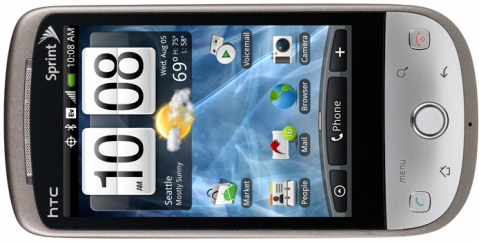 "The arrival of HTC Hero and the Android platform to Sprint's network is an important milestone for our customers and the U.S. wireless industry," said Kevin Packingham, senior vice president of product development at Sprint. "With the dependability and coverage of Sprint's 3G network, HTC Hero users will appreciate a much better experience than is possible now with any other Android phone operating in the United States."
Features Of HTC Hero (Sprint):
3.2-inch touch screen with pinch-to-zoom capability and fingerprint resistant coating
Built-in 5 megapixel camera, GPS navigation and trackball navigation
Easy access to personal and business e-mail, IM and text messaging through POP, IMAP and Exchange Active Sync accounts
Easy access to popular social networking sites including Facebook, Flickr and Twitter
HTC Footprints enables users to chronicle their special moments by capturing a digital postcard on their handset
Stereo Bluetooth 2.0 Wireless technology
Accelerometer, light sensor and home screen widgets for improved usability
Sprint TV with live and on-demand programming
NFL Mobile Live and NASCAR Sprint Cup Mobile
Visual voice mail for quick and easy access to specific voice mail messages
"Sprint and HTC are helping to drive openness and innovation in the mobile industry with the introduction of the Android-powered HTC Hero," said Andy Rubin, vice president, mobile platforms for Google. "As the world's first truly open mobile platform built with the Internet in mind, Android provides to consumers the same Internet services they have become accustomed to on their desktop PC. Offering access to thousands of applications, a suite of Google services, and unique personalization features, the HTC Hero offers a compelling mobile experience."
"HTC Sense on HTC Hero revolves around three basic principles: Make it Mine, Stay Close and Discover the Unexpected. These principles are based on the recognition that people want their mobile device to conform to their needs and wants, easily keep them in touch with the most important people in their lives, and surprise them with small moments of joy and delight," commented Jason Mackenzie, vice president of HTC America. "Working with Sprint to introduce HTC Hero to the US was a natural fit, as both HTC Hero and Sprint's Simply Everything plan are designed to give customers everything they need in a simple package."
HTC Hero full-featured smartphone that offers synchronization for integrated Google mobile services including Google Search, Google Maps, Gmail and YouTube will hit Sprint stores starting October 11 for $179.99, after a $150 in rebates and a two-year service agreement.