HTC Corporation, a global leader in mobile phone innovation has unveiled its HTC MAX 4G device as the world's first GSM/WiMAX handset. The device is capable of the speeds of up to 70 megabytes per second and will be available in Russia on the Yota Mobile WiMAX network. Additionally, the device also support Yota Video network that able to display up to nine TV channels simultaneously.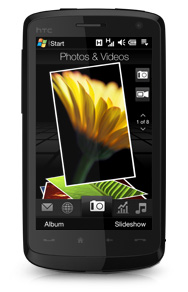 The device appear similar to the recently launched super high end HTC Touch HD with a large screen of 3.8 inch, 800 X 480 display and touch screen interface.
Other specification of HTC MAX 4G includes:
Platform: Run on Windows Mobile 6.1 Professional.
RAM: 256 MB ROM and 288MB with 8GB flash drive.
Processor: Qualcomm ESM7206A 528 MHz processor.
Display : TouchFLO 3D interface.
Tri-band GSM/GPRS/EDGE:900/1800/1900 MHz with integrated WiMAX.
Integrated GPS, WiFi, and Bleutooth 2.0.
Standard 3.5mm headset jack.
FM radio.
5 megapixel camera with VGA front camera for conference calling.
Support VOIP over WiMAX network.