Verizon Wireless has officially announced the launch of its newest 4G LTE smartphone which is named as LG Revolution, scheduled to hit Verizon stores on May 26 for $249.99 on a new 2-year service agreement. Besides, HTC Thunderbolt is also the 4G LTE-enabled phone which carries the same subsidized price tag as LG Revolution. For folks who like to experience Verizon's blazing-fast 4G LTE network and wanna know the differences between both smartphones to help in consideration when purchasing either LG Revolution or HTC Thunderbolt LTE smartphone, here is a simple comparative table of HTC Thunderbolt vs LG Revolution with specs and features comparison at a glance.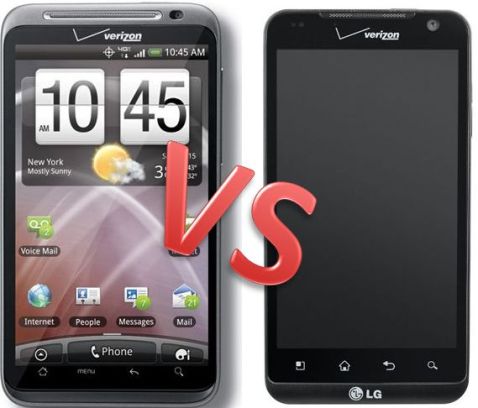 | | | |
| --- | --- | --- |
| HTC Thunderbolt | Versus | LG Revolution |
| 1 GHz Qualcomm Snapdragon single-core processor | CPU | 1 GHz Qualcomm Snapdragon processor |
| 768MB | RAM Memory | 512MB |
| 4.3-inch capacitive touch screen with WVGA 800 x 480 pixels resolution | Screen Display | 4.3-inch capacitive touchscreen (480 x 800 pixels) |
| 8-megapixel AF camera with dual LED flash and 720p HD video recording plus 1.3MP front camera | Camera | 5-megapixel AF camera with LED flash and 720p HD video recording plus 1.3MP facing camera |
| Android 2.2 OS + HTC Sense 2.0 user interface | Platform | Android 2.2 OS + LG Optimus UI |
| Yes | WiFi 802.11 b/g/n Connectivity | Yes |
| Skype mobile with video, DLNA support and Dolby Surround sound | Additional Features | Dolby Mobile, pre-loaded Neflix app, and Bing Search and Maps |
| Yes | 4G Mobile Hotspot Capability | Yes |
| 8GB internal memory plus pre-installed 32GB microSD card | Memory Storage | 16GB on-board memory plus 16GB pre-installed microSD card |
| No | Built-in HDMI output | Yes |
| 4.8 x 2.5 x 0.5 inches | Size | 4.8″ x 2.6″ x 0.5″ |
| 5.5 ounces | Weight | 5.6 oz |
| 1400 mAh | Rechargeable Battery Capacity | 1500 mAh |
From the table above, you can easily found that both of the Android-powered contenders' specifications are almost similar except the slightly differences in RAM, battery, dimensions, weight and camera. As HTC Thunderbolt features higher-resolution camera, larger RAM, lighter weight, and slimmer body than LG Revolution, but the Revolution packs stronger battery compared to the Thunderbolt.
For me, one of the most notable features of LG Revolution is the Neflix application that allows for easy accessing to movies and TV shows right on the phone while on-the-go, which comes pre-included, ahtough everybody can download Netflix app from Android Market anyway. So, the choices is based on your personal taste, needs and interest.