For system administrators who don't have budget to get a full featured network or server monitoring system, but want to monitor Hyper-V server, Tore Lervik has created a Windows Sidebar gadget (Desktop Gadget in Windows 7) for Hyper-V (now integrated with Windows Server 2008 R2) server monitoring. The gadget is aptly named as Hyper-V Monitor Gadget for Windows.

Hyper-V Monitor Gadget for Windows allows administrators to see what the Hyper-V server is doing from remote workstation. The gadget can list multiple servers at once and also support vmconnect when double clicking on a VM. Since version 3.5, the gadget supports custom credentials support per server, allowing the gadget to monitor multiple servers that require different domains\credentials using the following syntax when specifying servers or hosts:
host
user/pass/host
domain\user/pass/host
Hyper-V Monitor Gadget also feature VM Control faeture which allows user to control the Hyper-V VMs (virtual machines) directly from the gadget without having to open Hyper-V Manager. Hyper-V Manager installation is being auto-detected so user doesn't need to locate and select the vmconnect.exe.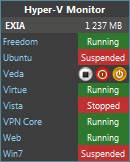 Download Hyper-V_Monitor.gadget
Hyper-V Monitor Gadget requires the Hyper-V servers to have remote WMI access to work.