Intel Atom processor has been gaining much traction with many board vendors designed with it especially for both nettop and embedded market. Similar to IBASE Technology, the Taiwanese based company has just announced the readiness of its new 3.5-inch SBC (Single Board Computer) targeted for low power and mobile applications. Named as IB888, it is powered by Intel Atom processor clocking at either 1.33GHz or 1.6GHz core frequency with FSB (Front Side Bus) speed up to 533MHz for significant performance boost as compared to competitive solutions in the same market space.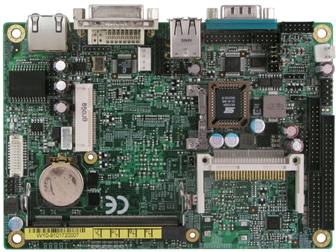 Further coupled with Intel US15W XL SCH (System Controller Hub) that being enhanced with GMA500 graphics core, IB888 is capable to handle graphics decode with DirectX 9.0E and Open GL 2.0 for impressive visual experience. Some other functionalities include dual independent display ports such as DVI and LVDS, Realtek RTL PCI-Express Gigabit LAN port, one IDE port for hard disk drive, eight USB port as well as SDIO for SD/MMC card slots. Surprisingly, all these features are well packed in a tiny 3.5-inch sized SBC that fits well in a standard 3.5-inch drive bay as an ultra small form factor standalone PC system. This is not even taking the huge SODIMM connector into space constraint design consideration yet.
No information on pricing and availability yet, but we should expect IB888 to reach market space soon to compete against other platform solutions in this competitive industry.