By default, all the icons in iOS device's Springboard come with its own naming which you don't have much choice to change it. But if you are jailbroken iPhone owner and is looking for way to modify it, here is a tiny app named as Icon Renamer that you can download from Cydia for such purpose.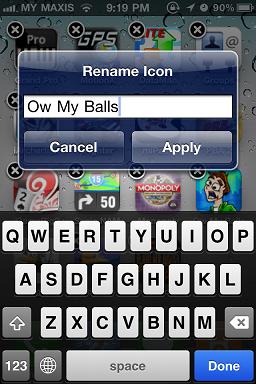 As the name implies, Icon Renamer does what it claimed and without any setup required, it will enable the text editing on any icon regardless if they are original or newly added apps/games. As usual, just head over to Cydia and under the search tab, type in 'Icon Renamer' and it will list down all the related app. Tap on it to install straight from your iPhone and Springboard restart will make it effective.
Do note that there will not be any new icon be added into your Springboard. However, tap and hold on any icon will enter jiggle mode and simply tap on the specific icon (that would like to be renamed) will pop up a new window for you to modify the current name. For instance, there is games with the name of 'Ow My Ball' which sounds weird and by following the above steps, you can rename it to any new name such as 'Ball' that looks much better.
Icon Renamer is free for download in Cydia via BigBoss repo with only requirement of at least iOS 4.0 and it is simple enough even for newbie or beginner in using iOS devices such as iPhone, iPod touch or iPad.