One of the most intimating and frustrating problem in Windows operating system, including Windows 7, Windows Vista, Windows XP, Windows Me, Windows 98, Windows 95, Windows Server 2003 and Windows 2000, is the failure for Windows to identify the device installed or connected to the computer, and Windows cannot or unable to find proper or correct driver for the device.

When Windows fails to identify or recognize the device connected to the computer, or does not have the driver for the device, the device is unusable. In Device Manager, the device will be listed as unknown device with yellow question mark.
In the case of any unidentified, unknown or no-driver installed devices, user can manually download from Internet or use driver CD to install the driver. However, user has to identify and know what's the unknown device prior to installing correct driver. Other than manually identify an unknown device with Vendor and Device ID, there are a few software utilities that help user to identify and find unknown devices' drivers.
Unknown Devices
Unknown Devices from http://halfdone.com/ukd/ helps users find what those unknown devices in Device Manager really are. By checking Device Manager for unknown devices and extracting information from it, the program attempts to figure out what the device is, so that users do not have to open the PC casing or look up random numbers off of PCI cards to figure out what they are.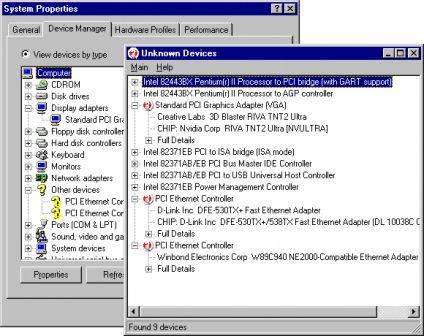 Unknown Devices supports Windows 95, Windows 98, Windows 98 SE, Windows Me, Windows 2K, Windows XP, Windows 2003 (but not Windows NT), with beta version supports Windows Vista, and possibly Windows 7. Unknown Devices is portable and does not require installation, so it runs fine from a CD or floppy. Unknown Devices is available for free download.
Download Unknown Devices 1.4.20 Beta: UKD_14-20_Beta.zip
Download Unknown Devices 1.2: UnknownDevices.zip
Unknown Device Identifier (UDI)
Unknown Device Identifier (UDI) from zhangduo.com enables user to identify the yellow question mark labeled Unknown Devices in Device Manager. The program can report a detailed summary for the manufacturer name, OEM name, device type, device model and even the exact name of the unknown devices. With the collected information, user may contact hardware manufacturer or vendor for support or search the Internet to find and download the proper and correct type of driver for the hardware, effectively and immediately convert unidentified unknown devices into identified known devices. Known devices recognized by Microsoft Windows will also be analyzed independent of the operating system.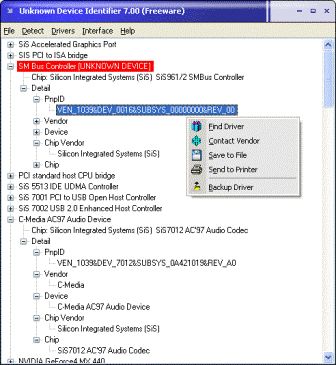 Unknown Device Identifier supports operating systems of Windows 95, Windows 98, Windows 98SE, Windows Me, Windows 2000, Windows XP, Windows Server 2003, Windows Server 2008, Windows Vista, and Windows 7. It identifies USB 1.1/2.0/3.0, IEEE 1394 Firewire, ISA Plug & Play, AGP Bus, PCI, PCI-E, eSATA devices and most other peripherals, and is available as free download.
Download Unknown Device Identifier (Current UDI version v7.0): UnknownDeviceIdentifier.exe or udi.exe