Facing the trouble to resize and choose suitable format of image when sending via email or uploading to social network such as Facebook, Twitter, blog, MySpace, and LiveJournal etc? Image Tuner is the latest free photo editing application that allows users to do basic editing of digital photos and images in Windows platform. The Image Tuner comes with intuitive and easy to use interface. The application allows resizing images, renaming, watermarking and converting to more than 20 image formats such as JPEG, BMP, PNG, TIFF and GIF formats. In addition, Image Tuner also comes with preloaded templates so that users can edit photo or images which are going to be displayed in iPod, iPhone, Facebook, Twitter, DVD, etc. Furthermore, it also integrates advanced configuration that supports numerous options and settings.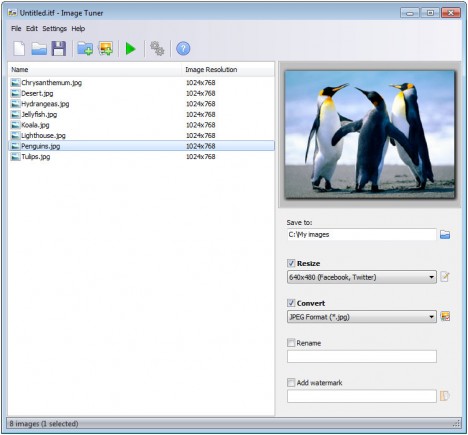 Features of Image Tuner
Fastest image resizing algorithm
Resize, rename, watermark and convert images in batch mode
Support of more than 20 new image formats (DICOM, Targa / Wireless Bitmap etc.)
Support of camera RAW files (CRW, CR2, RAW, NEF, DCR, X3F, ORF)
Variable options and settings for advanced users
Configurable compression / resolution ratio
Load / save settings and image lists
User-friendly interface
Small installation file(2MB)
Supports Windows 98/ME/NT/2000/XP/Vista/7 (32 and 64 bit)
The new Image Tuner version 1.1 has improved loading speed of image preview and support more than 20 new image formats and camera RAW files. Interested users who want to download and install Image Tuner free setup installer by using links below.
Image Tuner Free Direct Download Link:
Image Tuner 1.1 : imagetuner1.1_setup.exe