Apple once again astonishing Apple fans with announced of its new generation iPad 2. In addition to the iPad 2, Apple also announced two new apps, namely iMovie and GarageBand for iPad.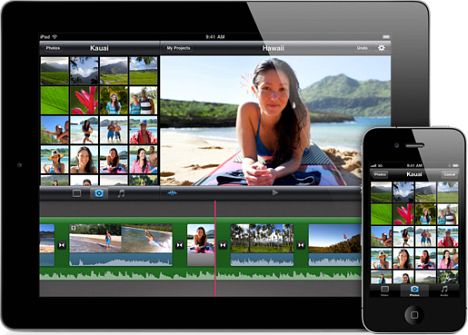 iMovie is a universal app that allows users to shoot video right on the iPad and have it appear right in the application for easy editing. The new iMovie has adds new features include sound effects, audio waveforms, visual soundtrack timeline management, and narration or voice-over recording right in the app. With iMovie, users can easily drag-and-drop footage, photos, and text to quickly create high-quality video right on their tablet devices. In addition, users also can post their video to YouTube, Facebook, Vimeo, CNN iReport, MobileMe gallery, and watch them on iPod, iPhone or iPad as well as view them on Apple TV via AirPlay.
Another application, GarageBand offers several touch instruments, guitar amps and effects, 8-track recording studio, and over 250 loops to allow users perform with onscreen keyboards, guitars, drums, and basses by using multi-touch gestures. In addition, the new GarageBand also includes a number of sharing tools to allow users to export their work via email or iTunes libraries.
The new iMovie and GarageBand will be available on the App Store for just $4.99 each start from March 11th alongside with launch of the iPad 2.