If you ever encounter the slow start up issue on your Windows PC system, the first thing you might need to take a look is to figure out what are the programs being loaded during startup, and you may need to delete some of them which are not necessary in order to speed up the startup time. The question may arise is, how can I know what are the programs that being loaded during startup and how to disable it? If you are looking for simple solution, then Startup Manager ver 2.4.2 offers you the possibility to list down the startup program list at one glance, and let you to manage the startup list with a user friendly interface.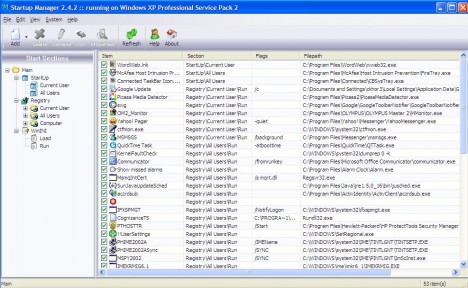 Startup Manager is a freeware that let you to consolidate and load all auto startup programs from StartUp folder, registry key and win.ini so that you can have an overall view in one glance. To disable the program from being loaded during startup, just untick the program. Ticking it back to enable it to be loaded later in case you change your mind. If you have decided to delete it permanently, you can just highlight the item, the click on Delete button. It is recommended to run Startup Manager at least once for every 6 months in order to ensure you computer is booting fast enough for more efficient tasks handling.
Start Manager is compatible to run with Windows 95/98/ME/NT/2000/2003/XP/Vista. Occupying only around 1.81MB of your hard disk space, it is good to be installed in your PC system in order to manage program startup list in more effective and safer way. Just click here to download Startup Manager ver 2.4.2.