Tired of seeing the typical Start Menu every time you start your computer and run your program? The standard long list menu is getting more and more difficult to read especially there are more and more programs added to it. To change the conventional appearance of your Start Menu in your Windows XP or Windows Vista, Vista Start Menu can be your alternative solution.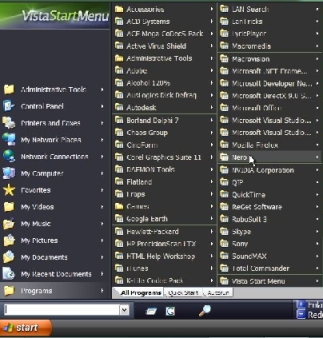 Vista Start Menu is a free program that completely changes the Start Menu interface for Windows platform. Users can find their programs much easier with Vista Start Menu tool as this menu will organize all programs into various sections in a table and display the program icons at a glance. Users can straight away locate the program they are looking for without spending too much time. Users could just click the program icon to run the program. If they need supplemental files installed together with the program, they just need to move the mouse pointer over the icon and they will see a submenu where they can find all they need. The position of icons will remain with the use of Vista Start Menu. Icons will not disappear as in the standard Windows menu.
Vista Start Menu has released its latest version 2.9. It is easily understandable for beginners; it is also highly efficient for experienced users. This application supports Windows 2000, Windows 2003, Windows XP and Windows Vista. Users can give it a try if they want to get rid of the conventional Start Menu via the download link here.