TouchFLO 2D or TouchFLO2D which is also codenamed Manila 2D (M2D for short) is the next generation TouchFLO user interface from HTC for Touch series of mobile smartphone. Currently, only HTC Touch Viva has made use of the new TouchFLO M2D interface, although the software has been hacked, cracked and successfully ported to older versions of HTC Windows Mobile PDA phone.

However, there is one annoyance in the TouchFLO 2D user interface. That's when previewing email in the Email tab of HTC device using TouchFLO 2 interface, the envelope and email overlay icon will sit on top and cover or hide part of the e-mail preview message. Hacker in XDA-Developers has managed to develop a hack to remove the obstacle (email envelope overlay) that obstructs and blocks the full view of the previewed email messages to allow user to view more content of the email.
The hack is achievable by a very simple CAB installation on the device which is downloadable from xda-developers.com. Two version of hacks available. PeterFnet M2D Email Transparency.CAB (version 1.0) which removes that email envelope icon overlay completely, and PeterFnet M2D Email Transparent v1.2 [Oct17,2008].CAB (version 1.2) which changes the email envelope overlay icon to one that dies not cover up the email preview.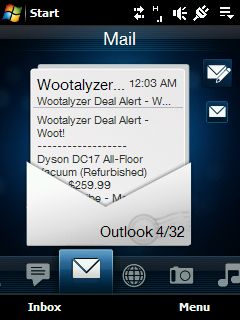 Original HTC TouchFLO Email Preview Envelope Overlay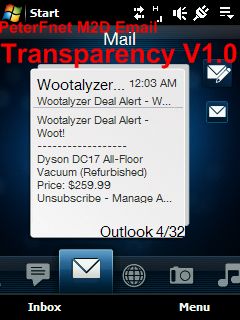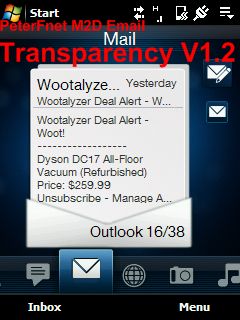 To install the hack, just run the .CAB file, and soft reset (reboot) when prompted. To avoid or bypass the need of soft reset, user can shutdown the TouchFLO M2D, install the .CAB with no files affected in use, and run the TouchFLO program again.
The CAB file replaces 3 PNG files in the "\Windows\" directory, namely hh_email_background.png (to clean up edges), hh_email_envelope_down.png (for transparency) and hh_email_envelope_up.png (also to make email preview transparent).
For user who has installed Email Transparency v1.0, and want to install v1.2, the setup will for uninstallation, but will subsequently shows error that the program cannot be uninstalled. The error is ignorable as the developer set these cabs as uninstallable since the program does not backup the original .PNG files.