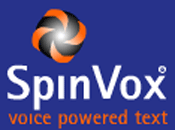 The famous Canadian data communications and media company, Rogers Wireless has recently introduced an innovative new messaging service called Voicemail to Text. As its name implied, the Voicemail to Text service that powered by SpinVox is designed to offer mobile fans fast, easy access to their voicemails by converting their voicemails into an SMS text messages automatically thanks to the SpinVox's Voice Message Conversion System (VMCS).

According to the company, this new mobile service can save users time by eliminating the need to dial into voicemails.
"As Canada's largest provider of voice and data communications services, Rogers Wireless is pleased to offer customers yet another time-saving productivity weapon in the war against inefficiency," said Irv Witte, Vice President, Business Marketing, Rogers Wireless. "With Rogers Voicemail to Text powered by SpinVox service, customers across Canada will have the added convenience and flexibility of receiving messages and call-back numbers in real time, without the hassle of dialing-in or writing anything down."
"SpinVox is committed to providing Canadian customers with innovative communications solutions that streamline the way they do business and lead their lives," said Christina Domecq, Chief Executive Officer and Co-founder of SpinVox. "We are excited to partner with Rogers Wireless to launch our voicemail-to-text service on the country's largest and most reliable GSM network."
Besides, the US-based company, Alltel also launched the cool Voicemail to Text service (Voice2TXT) in United States.