INQ mobile has announced its two 3G social mobile phones which known as INQ Chat 3G and INQ Mini 3G. Both phones have been integrated with Twitter and iTunes sync capabilities. The INQ Chat 3G is the company first ever phone with QWERTY handset. Other than Twitter, both phones has been enhanced to support Facebook, Skype, email and Instant Messaging. The high speed HSDPA connection has been improved compared with previous handset.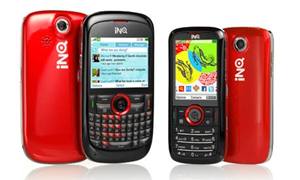 "We build phones that focus specifically on what people want to do most on mobile, and deliver it at a price point that's easy for consumers and profitable for operators. We have completely broken the vice grip hold that high-end smartphones had on great mobile internet experiences, and made them available to everybody" said by Frank Meehan, INQ's CEO.
"With the INQ Chat 3G, we've reinvented the qwerty for consumers by creating a fantastic social mobile. With the INQ1, we were blown away by how much consumers were writing just using the standard 12 keys – 30% of them were regularly sending emails. So we know that a keypad will go down a storm" added by Frank Meehan, INQ's CEO.
The INQ Chat 3G is features with a 2.4-inch QVGA TFT landscape display and a 3.2-megapixel camera with auto-focus function. It also integrates with a GPS and comes with 120MB of memory that can be expanded up to 8GB.
However, INQ Mini 3G is the entry-level phone which has been integrated with a 2.2-inch QVGA TFT landscape display and a 2.0-megapixel camera. It also comes with 100MB memory that can be expanded up to 8GB and supports web-based mail services such as Hotmail, Gmail and Yahoo! Mail.
Moreover, both of the phones are also feature with Brew 4.0 and Java MIDP 2.0 for application development multitasking which is supported by dedicated Switcher hard key and can be customized with a range of seven colored backs.
The INQ Chat 3G with measurement of 114.5mm x 61.0mm x 12.8mm and INQ Mini 3G with measurement of 102.9mm x 45.8mm x 12.8mm are expected to be available in consumer market in Q4 2009.