A startup from Yahoo which known as Inquisitor is now available as an application for iPhone. Inquisitor allows users to search easily and quickly with minimum typing. It allows certain features such as Yahoo's Search Assist work incredibly on mobile phones.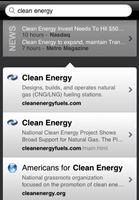 When the users start typing a search in Inquisitor, a list of suggested keywords automatically appears. As the users goes on typing, the application will provide more suggestions and will allow the users to select one before completing the word in the search box.
The search results are presented in large, easy-to-read gray boxes with favicons and two lines worth of text. Beside that, abbreviated news results from two sources appear at the very top if they are available and can be clicked through to see only news results.
The Inquisitor application also can be viewed on the iPhone via safari browser and it also has a toolbar that appears on the top which allow users to navigate back. In addition, it also has an option for emailing links.
Inquisitor is free for iPhone users and available for .