Nowadays wireless internet access is so popular that you can easily scan few of the wireless networks surrounding you and tap to the non-encrypted access point for free internet surfing. Sometimes you may wonder which signals are more stable and will not cause the trouble to reconnect each and every time whenever there is a signal drop. Now with this useful software utility named as inSSIDer, it will able to scan and display all the available networks' signal strength in a nicely graphical view.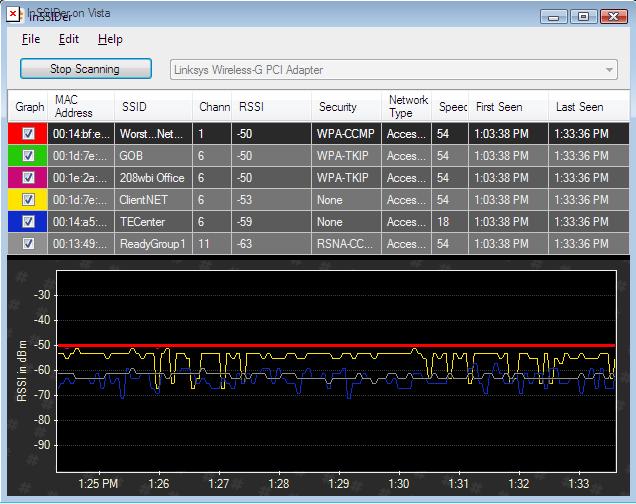 inSSIDer is a very tiny software tool that can scan all the surrounding access points and help you plot out nice graph in terms of RSSI (Received Signal Strength Indicator) in dbm measurement so that you can keep track of the signal change dynamically. Besides, the signals will be plotted in different color code so that you can easily differentiate and compare all of them in easy graphical view and then select the most stable and safest one to be accessed with. Since it is being tracked over time, users will be able to identify when the signal is up running, any signal drop, instability over time, that make it one of the simplest monitoring and troubleshooting tool for daily use. That is not all, it will disclose all the network details such as MAC Address, SSID, Channel, Security encryption and even download speed at one glance.
Unlike other similar software utility tool that mostly work with only Windows XP or older OS version, inSSIDer has been designed and tested with newer Windows OS such as Windows Vista 32-bit and 64-bit, while maintaining its compatibility with popular XP version. Only one thing to note here, it requires .NET 2.0 installation in order for it to work correctly.